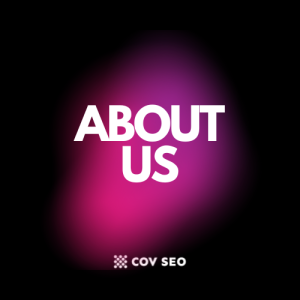 At Coventry SEO Services, our About Us section is more than just a page—it's a crucial element in conveying who we are and why we stand out in the world of SEO, We are a UK based Digital marketing Company that specialises on organic local Google website ranking for small businesses in the UK.
Meaningfully crafted, this section provides visitors with a glimpse into our origins, values, and mission. It's not merely a chronicle but a story that resonates with the businesses we serve in Coventry and beyond. Did you know that 75% of users make judgments about a company's credibility based on its website design and content? Our "About Us" aims to build that trust.
Relevance is key. We understand the unique digital landscape of Coventry, where 87% of residents use the internet daily. Our one time SEO packages & Monthly SEO packages reflect our commitment to local businesses, addressing the specific needs and aspirations of our community.
How Can Cov SEO Support Your Small Business Website?
Cov SEO website support works by optimising your small local business website so it is designed to the Google ranking guidelines in turn improving the search ranking position in your local search results. 
Collaborating closely with you, Coventry SEO is dedicated to fostering your business's online growth. Our services are diverse and customisable, catering specifically to your unique requirements. Whether your business is in need of its inaugural website or aims to enhance its current online performance, Coventry SEO is your ally for online success.
Our expertise spans a range of essential services such as:
Get to Know About Our

Website Development? 
About our website design for small businesses? We start with a clear goal, Our goal is to clearly display to your customers or clients what services you exactly offer, Your expertise in said services, your areas of service covered and how they can contact you in the easiest way possible.
What About Our SEO Strategies and Campaigns?
What is our Local SEO Services About? Our Seo services are designed to differently for every website that requires optimisation according to Google guidelines.
We make sure to implement the seo strategies that suits your business niche by studying keyword research for your business, smartly optimising your content, then carrying out technical seo plus other elements below:
About Our Social Media Management Works?
Learn here about how we implement your social media by optimising your social profiles such as TikTok, Facebook, Instagram.
About How We Carry out Competitor Analysis?
How do we evaluate your competitors website onpage SEO & offpage SEO to refine your business strategies and stay ahead of your competition.
Do We Use Google Analytics

and Reporting?
We constantly utilise Google analytics for insights, refining strategies, and reporting on your online performance. So we can find the latest up to date data about your search ranking, user experience, new keywords, geographical interests of people searching for your products or services.
How Do We Provide Content Creation and Optimisation?
We hand write all about of your local business services such as Personal trainers, Taxi businesses, Driving instructors and so on… Your website content should be written in a natural way so your customers can clearly understand your expertise and exactly what services you provide. 
With Cov SEO, it's not just about local SEO services; it's about sitting down together and moving forward to rank your small business website higher on Google search rankings in Coventry or any other city or town in the United Kingdom.